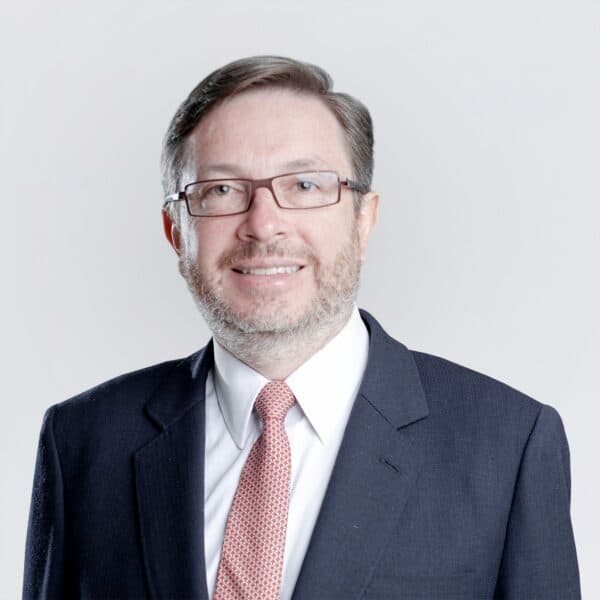 Memberships
Member of Colombian Labour Bar Association
Member of the Committee of Labor Lawyers of ACRIP
Member of International Bar Association
Member of Javeriana Bar Association
Education
Lawyer from Pontificia Javeriana University (2001).
Specialist in Labour and Social Security Law from Pontificia Javeriana University (2004).
Awards
Governor of the Colombian Bar Association of Labour Lawyers (Period 2017-2018).
Board of Directors of the Colombian Labour Bar Association, 2019 and 2022.
Member of the Colombian Delegation to the 108th Session of the International Labour Conference.
Chambers & Partners 2022 – Band 3 in Labor Law and Social Security – Recognized since 2018.
Publications
INTERNATIONAL BAR ASSOCIATION. Employment and Industrial Relations Law. Newsletter of the International Bar Association Legal Practice Division. "Impact of the final peace agreement executed between the Colombian Government and FARC-EP on Colombian Labour Law". Author: Alejandro Castellanos López. International Bar Association. (Vol. 27, April 2017)
LEGIS PUBLISHERS. Journal of Labour and Social Security News. "Petition for direct reparations for full compensation of damages for harassment at work against public employees." Authors: Juan Pablo López Moreno and Alejandro Castellanos López (ISSN 0123-9899 No. 209. Legis Publishers. Bogotá, September-October 2018).
TIRANT LO BLANCH, "Labour GPS, Professional Guide" published by Tirant lo Blanch, Editorial Group. Bogotá, Colombia. Co-author. (2019)
COLOMBIAN LABOUR BAR ASSOCIATION, Social Law, "Labour Judicial Process Online: Decree 806 of 2020" Authors: Alejandro Castellanos López and Nicolás Rueda Cotes, No. 70, November 2021. Of Colombia, "Extraordinary Appeals in Labour Law." Colombian Labour Bar Association. Co-author (2020).
López & Asociados
Alejandro Miguel Castellanos López
Director of the Judicial Representation and Litigation Practice
Phone

E-mail

Address

Calle 70 # 7 - 30 piso 6
Edificio Séptima Setenta
Bogotá
Colombia
+57 134 069 44
http://www.lopezasociados.net/


Languages

Spanish, English
Alejandro has developed important skills in the definition of legal defense strategies at a national level in Labour and Social Security Law for companies in various economic sectors. During his professional career in the firm, Alejandro has focused his skills in attending judicial proceedings, which has allowed him to consolidate an area that manages more than 13,000 active processes. Currently, as Director of the area, he is in charge of defining judicial defense strategies and, along with his team, he represents companies in individual, collective and social security labour law before the ordinary labor jurisdiction and the contentious-administrative jurisdiction.